Posted by Bruce on Mar 6th 2021
Order your own Graduation BIG heads!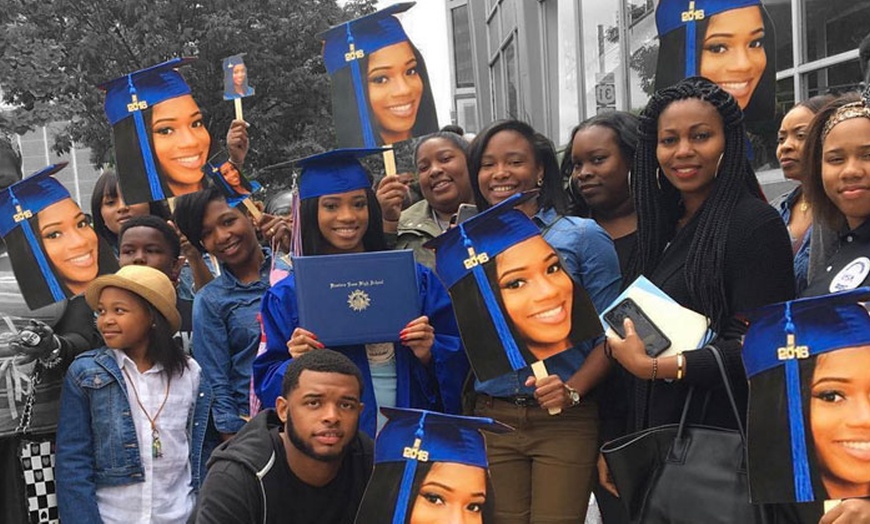 After thirteen years of homework, quizzes, school supplies, and report cards it's almost time for high school seniors to take the that fateful final walk across the gym floors and football fields of high schools across the country. It's graduation season again. Students are planning how they will decorate their dorm rooms, and parents are planning how they will redecorate their kids bed rooms. But we are getting ahead of ourselves, you and your graduate need to get through the ceremony and the graduation party season that follows it. BuildAHead.com's big head cutouts make that a breeze and fun!
Celebrating your graduates hard work in a "Big" way
The graduation ceremony has a long history of turning into a rowdy party, and why shouldn't it. Students are celebrating their freedom along with the beginning of a new phase in life, and parents are elated that they were able to successfully shepherd their children through the minefield of high school.
Parents, friends, and long lost family often come to to the party armed with a graduation sign. You know the one. Great Job Jeff, written in black marker on a fluorescent poster board.
But your graduate deserves something that stands out from the crowd. To make sure they can see you in the bleachers, order a big head cardboard cut out of your graduate, and send them off in style.
Ideas for your big head graduation sign
Turn a kindergarten class photo into a big head.
Have a big family? Make big heads of your graduate using pictures spanning their entire school career.
Use a sports team photo.
Use the most embarrassing photo you can of your graduate, they will appreciate the joke one day.
See these graduation ideas on pinterest.
Visit BuildAHead.com today to order your graduation big head today!
With the planning that goes into graduation parties, visitors for the ceremony, and preparing for college you won't have much time to spare. BuildAHead.com has made it simple to order all the big heads you need for the season. Just upload photos, chose the size of your big head, and complete your order. Don't worry, Build a Head knows you need a quick turn around, we ship orders next business day to make sure you get your big heads in time for the graduation party.