Posted by Alyssa Anastasi on Jun 2nd 2021
When we initially started to plan my father's surprise 60th birthday party, I knew I wanted to go above and beyond for the man who always did so for me. We have done the slip and slides, the ice luges, and the adult bouncy houses for other events but I really wanted this celebration to be about him. So together with Build a Head, we transformed the backyard into an epic Pat themed party space. No matter where you looked, you saw my dad and it was epic.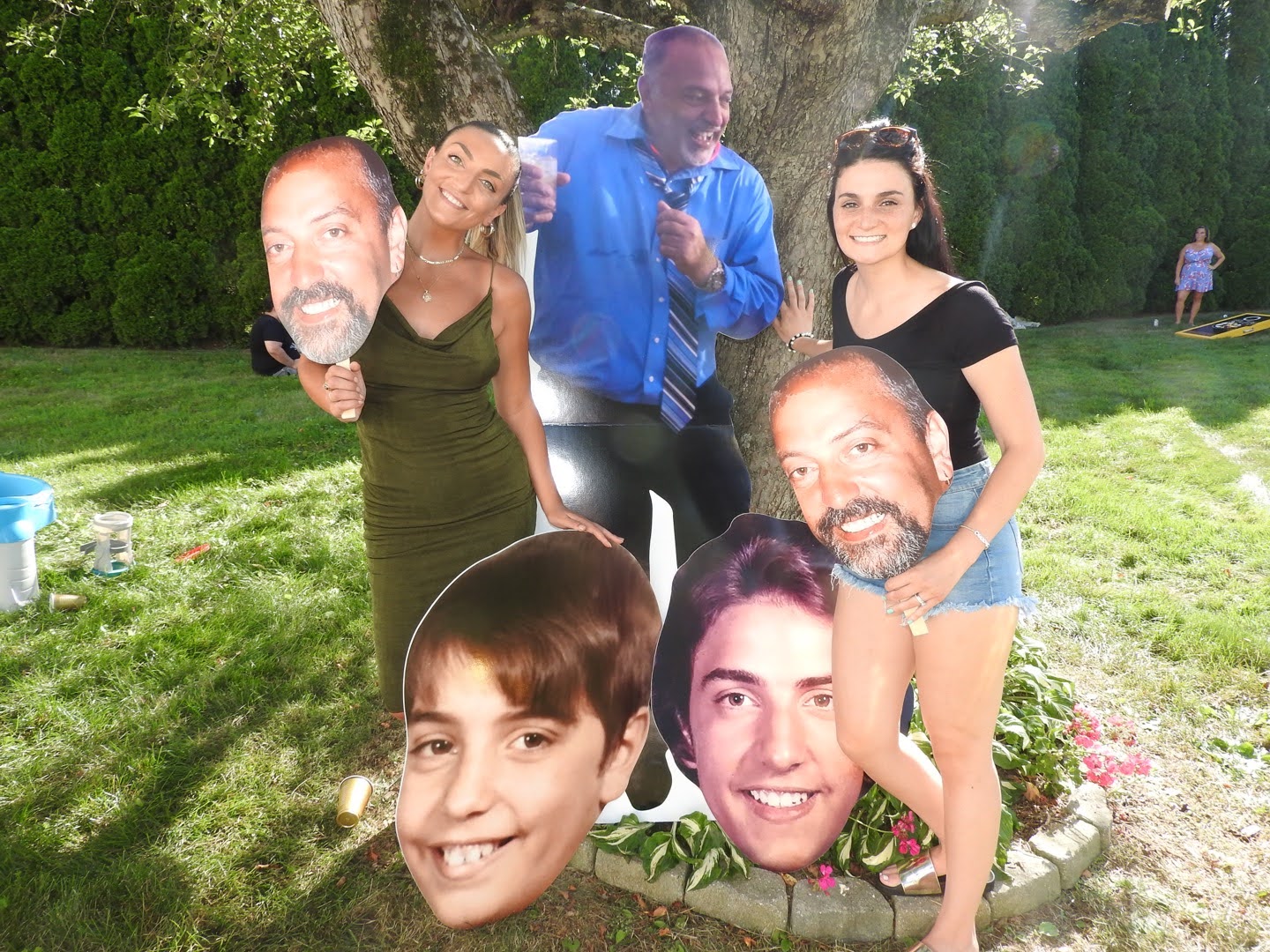 From the moment he walked around the corner and saw 30 of his loved ones with his face on a stick to when he realized we printed a 6 ft image of him doing his signature dance move, he was speechless. There was no mistaking who this party was for! With all the craziness happening in the world right now, it was so uplifting to get to celebrate my dad in such a big and special way. The gathering was smaller than it would have been if 2020 did not come with such obstacles but having Build a Head products gave the party the extra special touch I was looking for.
The process of importing the photos and ordering the products was seamless and I was in awe of the quality when they arrived. Apparently, so was everyone else because several people asked where they were from. My family was literally waiting in line to capture a photo with the 6 ft cut out. I also chose to print 2 3-foot tall big heads of my father when we was 11 years old and when he was graduating high school for a little blast from the past and they were huge hits. He and his cousins reminisced with childhood stories surfaced by seeing these photos.
Although it was one of the hottest days of the year in Connecticut, the topic of conversation stayed on the amazing party décor which I think says a lot about how unique and fun it was.
My wheels are spinning on the next event we use Build a Head for- it seems like the options are endless from bachelor/bachelorette parties to anniversaries and graduations. Build a Head truly makes the honoree feel special. I think the best part (aside from my dad's reaction to seeing his face everywhere) is that we now have the most amazing photos that will last forever. I plan on making a photo album out of them for the man of the hour.
The website has so many options from fat heads to life size cutouts and cupcake toppers. They really do have something for everyone and every event. There is no doubt that the party still would have been a blast without the special décor but with it, it will truly never be forgotten.
My family is a very close bunch and we never miss an opportunity to celebrate something or someone. The only downside to having Build a Head at this event, is that no other party will quite live up to it without Build a Head! I cannot thank them enough for producing such unique and quality products!

About the Author
Alyssa Anastasi is a self-described serial over-dresser who is usually either sleepy, hungry, or both. She was recently married, is an influencer who posts under the instagram handle @_thenotoriouspug_, and is the kind of daughter who throws the best birthday parties for her dad (see above).